Titan Laser Treatments at Luna Vision and Med Spa
Titan Laser Treatments in Pittsburgh, Greensburg, and Tarentum, PA
Crepey skin? Ready to turn back the clock on aging? Titan laser treatments can help. Do you know you lose 3 times your collagen between age 40 and 50? This is what leads to saggy, crepey skin. Titan will not only help your skin look younger, but it will help restore the collagen that you've lost. It actually rearranges your collagen structure for immediate and long term benefits. Titan is an FDA approved skin laxity treatment, designed to provide nonsurgical lifting and tightening of loose or lax skin. Tighten your skin with 1 treatment for 6 months and build collagen for just $175. 
Using infrared energy to stimulate new collagen growth deep beneath your skin's surface, Titan can tighten skin on your face, neck, arms, hands, abdomen, and legs. It's an ideal solution to enhance your youthful appearance without surgery, recovery time, or injections.
Luna Vision and Med Spa is currently offering special pricing on Titan laser treatments: 
Jawline: $399 – now $175!
Middle of Neck: $300 – now $175!
Both Under Eyes: $250  – now $175!
Full Neck: $575 – now $399!
Schedule a consult to meet with Dr. R. M. Dutt at one of our three locations and find out if Titan is right for you! If it is, Dr. Dutt will oversee all of your visits and procedures. 
*Consultations carry a $25 fee, which will go towards your first procedure if you move forward with this service. Laser treatments may begin as early as your initial consultation/visit. 
---
Frequently Asked Questions on Titan Laser Treatments:
What Is A Titan Laser?
The Titan is our infrared technology that targets wrinkles and loose joules and loose skin with no downtime. 
How Does It Work?
Titan utilizes a safe, infrared light to target the inner layers of the skin. The heat exposure causes immediate collagen contraction (while the outer layer of skin is protected with cooling technology). The procedure ultimately stimulated new collagen growth, promoting tightening and the development of a more youthful complexion with fewer lines, folds or looseness of the skin.
Patients of any skin type can be treated with this technology.
Actual results from one of Dr. Dutt's patients.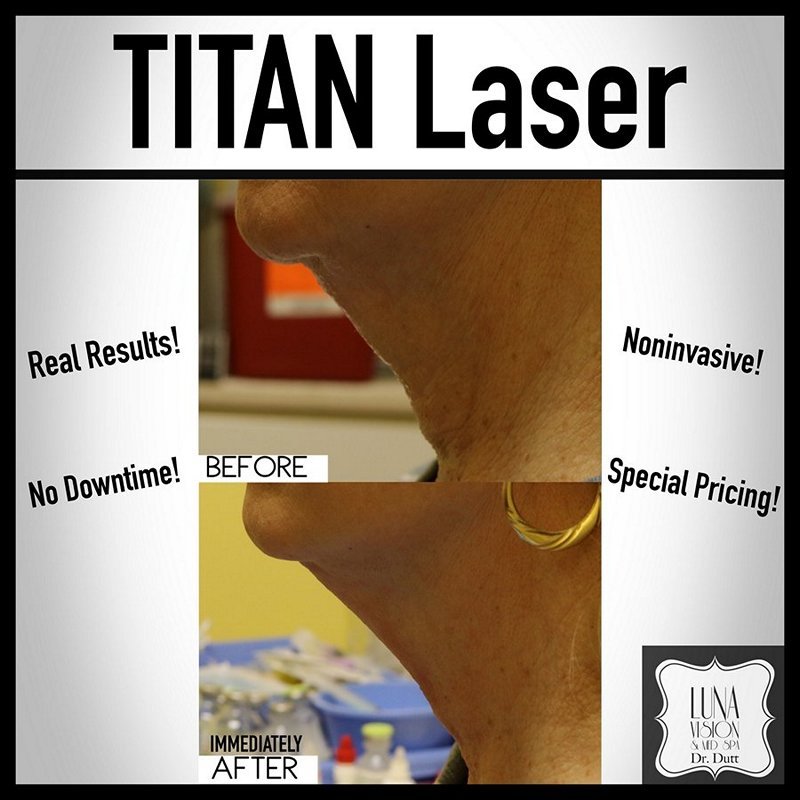 What And Where Exactly Can The Laser Treat?
The Titan laser is a great option to treat wrinkles and loose skin on your face, neck, arms, hands, abdomen, and legs.
Loose skin on the abdomen, back of the upper arm, along the jawline, and under the chin have responded particularly well to the procedure.
What Does A Procedure Look Like?
We numb you up for half an hour prior to your procedure. Then Dr. Dutt will perform the procedure itself, during which you may experience slight heating sensations. There is minimal discomfort because of the numbing, and the great news is there is no downtime afterward!
When Can I Expect Results?
The Titan does take up to 4 weeks to work since it rebuilds the collagen in wrinkled skin. However, it does work for a year and a half. At least two treatments are necessary to reach one's desired results. 
What Is The Cost Of Titan Laser Skin Tightening?
Jawline: $399 – now $175!
Middle of Neck: $300 – now $175!
Both Under Eyes: $250  – now $175!
Full Neck: $575 – now $399!