Microneedling at Luna Vision and Med Spa
Microneedling Treatments in Pittsburgh, Greensburg, and Tarentum, PA.
Microneedling can drastically improve the appearance of our skin, taking years off of our appearance with no surgery required. At Luna Vision and Med Spa, we proudly offer GeniusRF services - an advanced radiofrequency-based microneedling system that takes years off your face with no downtime. And all microneedling visits and procedures are carried out by practice leader Dr. R. M. Dutt.
The 3 recommended visits for the face and the front neck for this service will only cost $1,075 if purchased at the same time! A single treatment is $475 for the face and front neck. You save $350 when you purchase 3 treatments together.
And when you purchase this rejuvenation package, consider adding Platelet Rich Plasma (PRP) or Platelet-Rich Fibrin (PRF) for Skin Rejuvenation services. For only $250 more, you can elevate your skincare and rejuvenation efforts to a whole new level!
Schedule a consult to meet with Dr. R. M. Dutt at one of our three locations to find out if our services are right for you!
---
Frequently Asked Questions on Microneedling and GeniusRF:
What Is Microneedling?
Microneedling is a cutting edge procedure that uses small needles to prick the skin. This is a brand new technology that is very popular on the east and west coast that is new to our area. It's sometimes referred to as collagen induction therapy. The purpose of treatment is to generate new collagen and skin tissue for smoother, firmer, more toned skin. And it can give you the skin results you desire for up to one year per treatment, rebuilding the collagen that you've lost. 
There is no downtime following the procedure, and your first procedure could be done the same day as your consultation. It does take 6 weeks to build the collagen and see results because it is a long term technique. 
Here's how it works: We totally numb you up with topical and injected lidocaine for 30 minutes, then microneedles, up to 50 each time goes from 1-3.5 mm into the skin. This delivers a radiofrequency that stimulates collagen at all levels of skin. Did you know you lose 3 times as much collagen between 40-50?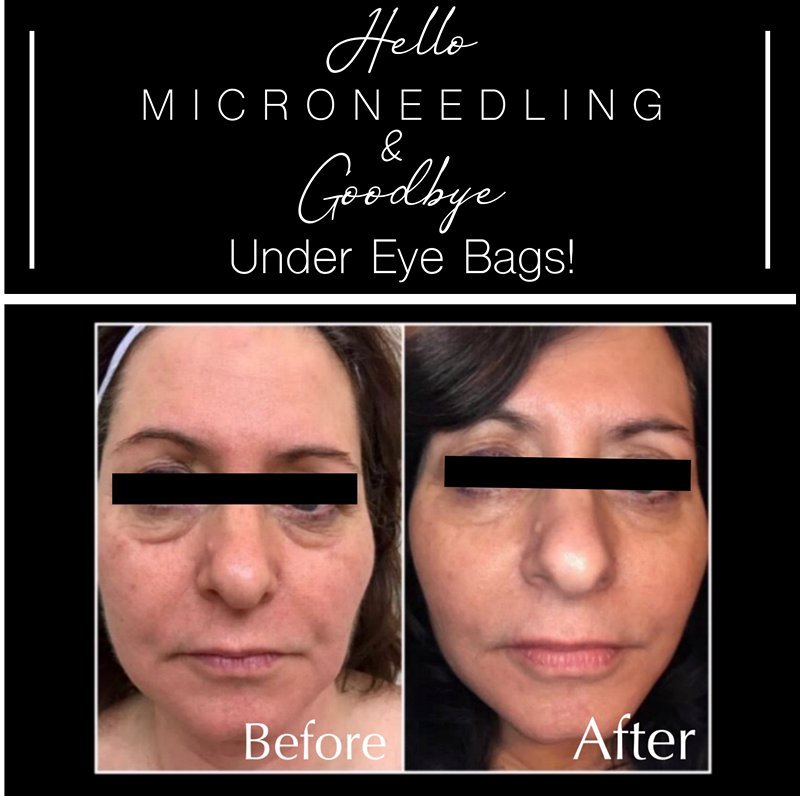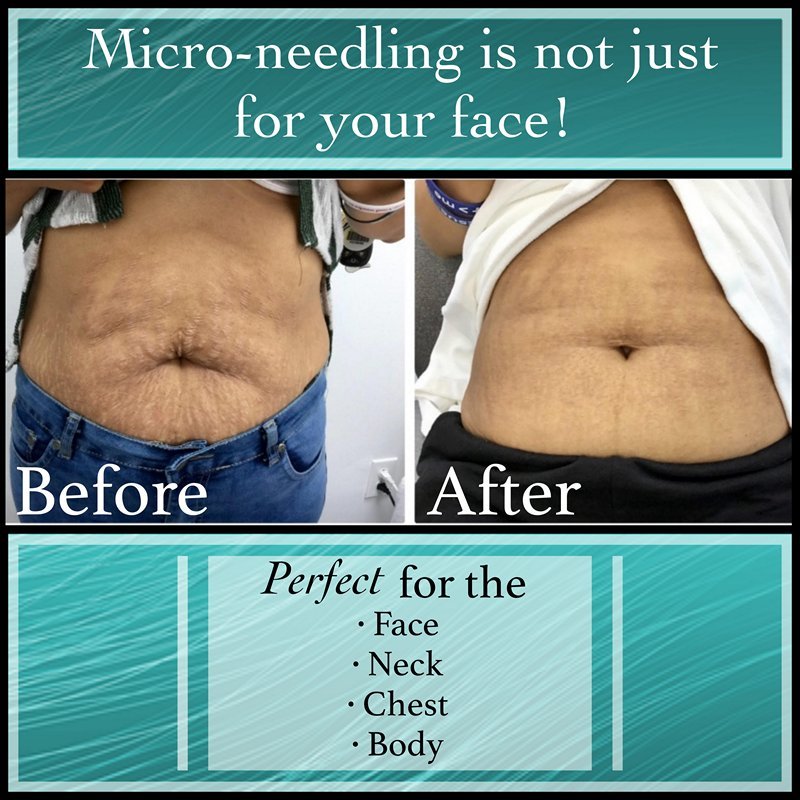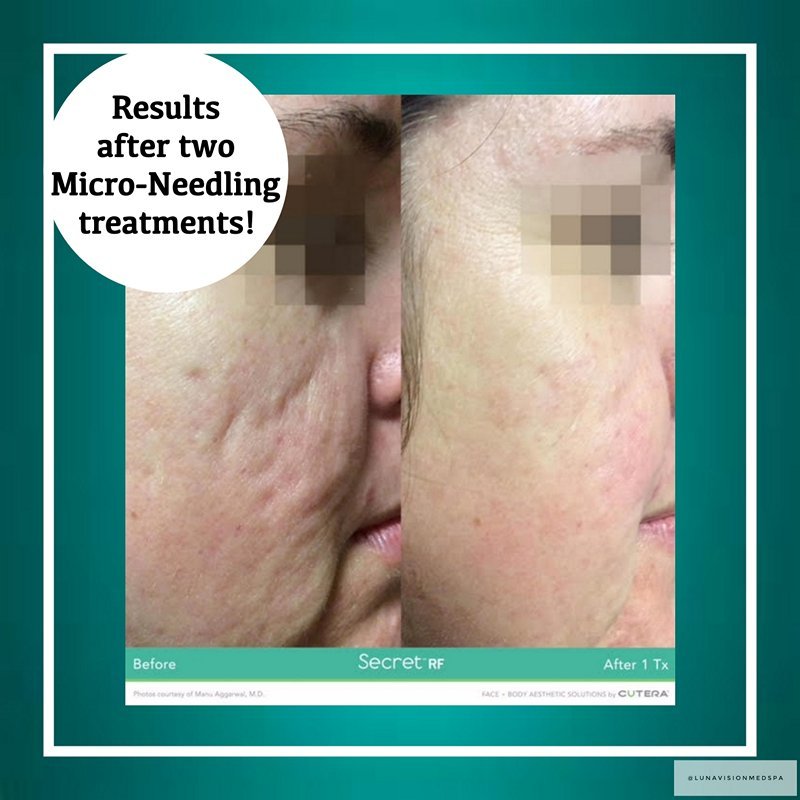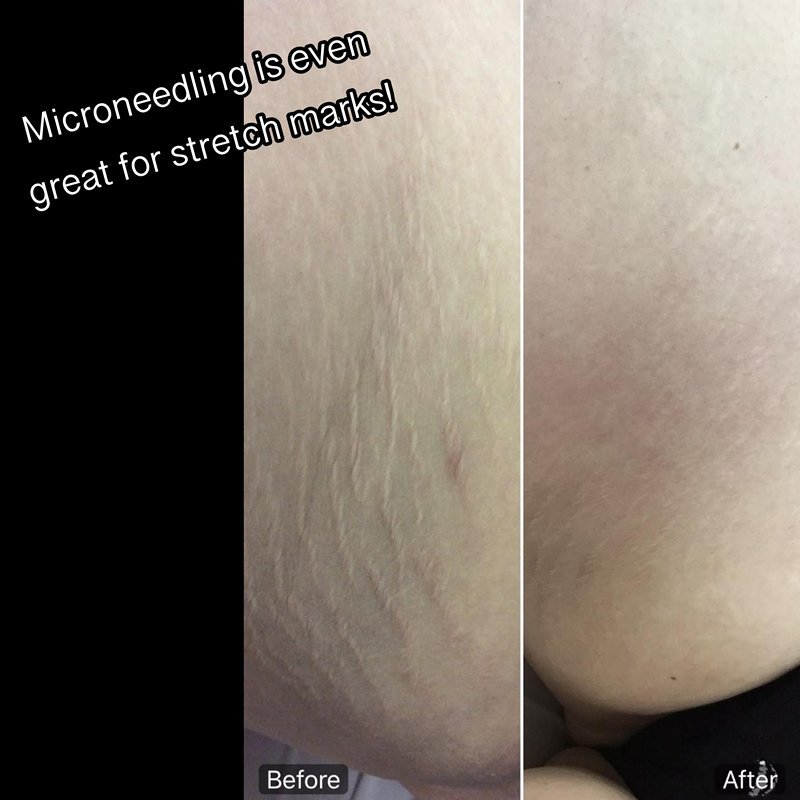 What Is GeniusRF Radiofrequency Microneedling?
Genius RF Microneedling – which is what Luna Vision focuses on - is an advanced collagen stimulation treatment that combines the benefits of microneedling with radiofrequency energy to eradicate wrinkles and enhance skin texture and firmness. The Genius system uses ultrafine needles to create controlled damage to the skin, producing a series of tiny punctures on the skin's surface. Fractional radiofrequency heat is simultaneously delivered to deep layers of the skin through the micro-needle created punctures, which act as delivery channels. 
These combined efforts stimulate the skin's collagen and elastin production, resulting in more youthful appearing skin. It's non-invasive and minimally painful, providing dramatic improvements of the skin with minimal downtime. And it ultimately creates similar results as standard microneedling - just through a different approach!
What Exactly Does It Treat?
Microneedling is most often used on your face to target: 
fine lines and wrinkles
reinstating collagen
jowls
large pores 
reduced skin elasticity 
stretch marks
scars / acne scars 
Is It Safe? 
Yes! Microneedling is minimally invasive and requires no downtime. During the procedure, your doctor makes small pricks under the skin with a pen-like tool. But the pinpricks are so small that you likely won't notice them after the procedure.
How Do I Know If This Is Right For Me?
You may be an ideal candidate for this procedure if you're in good health and have certain skin concerns that haven't responded to home treatments or other types of dermatologic procedures. Dr. Dutt is happy to give you a consult and recommend the best procedure for you. If you have saggy skin, if your skin looks old, or if you are a woman of color this procedure is great for you. This is one of the first laser treatments that can be used for dark skin. 
What Are The Side Effects?
The most common side effect is minor skin irritation immediately following the procedure. The skin may feel rough for a few days. 
What Does It Cost?
All 3 visits needed for both the face and the front neck only cost $1,075 if purchased at the same time!