Laser Hair Removal at Luna Vision and Med Spa
Laser Hair Removal in Pittsburgh, Greensburg, and Tarentum, PA
If you're not happy with shaving, tweezing, or waxing to remove unwanted hair, laser hair removal may be an option worth considering. Laser hair removal can drastically reduce and eliminate hair growth. The procedure can also be performed almost anywhere on the body.
Luna Vision and Med Spa invites you to liberate yourself from the constant need to shave and wax unwanted facial and body hair in order to feel and look your best. With full body laser hair removal options, you will need a full five treatments one month apart to permanently reduce and eliminate hair growth, revealing clear, silky skin that's ready to bare every day — and all year long.
Luna Vision and Med Spa offers Brazilians for only $675! This includes all 5 visits. 
Laser hair removal is also a single part of our full med spa experience, so if you decide it's not for you, another service may strike your fancy instead!
Schedule a consult to meet with Dr. R. M. Dutt at one of our three locations and find out if laser hair removal is right for you.*
*Consultations carry a $25 fee, which will go towards your first procedure if you move forward with this service! Laser hair removal may begin as soon as your initial visit/consultation date. 
---
Frequently Asked Questions on Laser Hair Removal in Pittsburgh:
What Are The Benefits Of Laser Hair Removal?
Laser hair removal carries the following benefits: 
Excellent long-term results 
Fast treatment sessions (often within minutes) 
Great for reducing hair thickness from larger areas 
Comfortable treatments with no downtime
Unlike shaving that lasts days, waxing that needs to be repeated every few weeks indefinitely, or electrolysis that's tedious, permanent laser hair reduction is a lasting solution that takes away the everyday hassle of dealing with unwanted facial and body hair. 
How Does It Work?
At your initial treatment, your hair should be visible on the surface of your skin. From there, the laser will be directed onto the hair. Heat energy will be drawn into the melanin of the skin, heating the rest of the hair shift. This heat will either weaken or destroy the hair follicle, allowing the follicle to detach from the hair shift. Without a healthy follicle, that hair will not regrow. 
The secret behind the procedure lies in the laser technology that targets and destroys hair cells responsible for hair growth without harming surrounding skin. It's a simple approach to permanent hair reduction that's fast, easy and FDA-cleared. Best of all, treatment sessions take just minutes and are practically pain-free. It's the permanent hair removal solution you've been waiting for.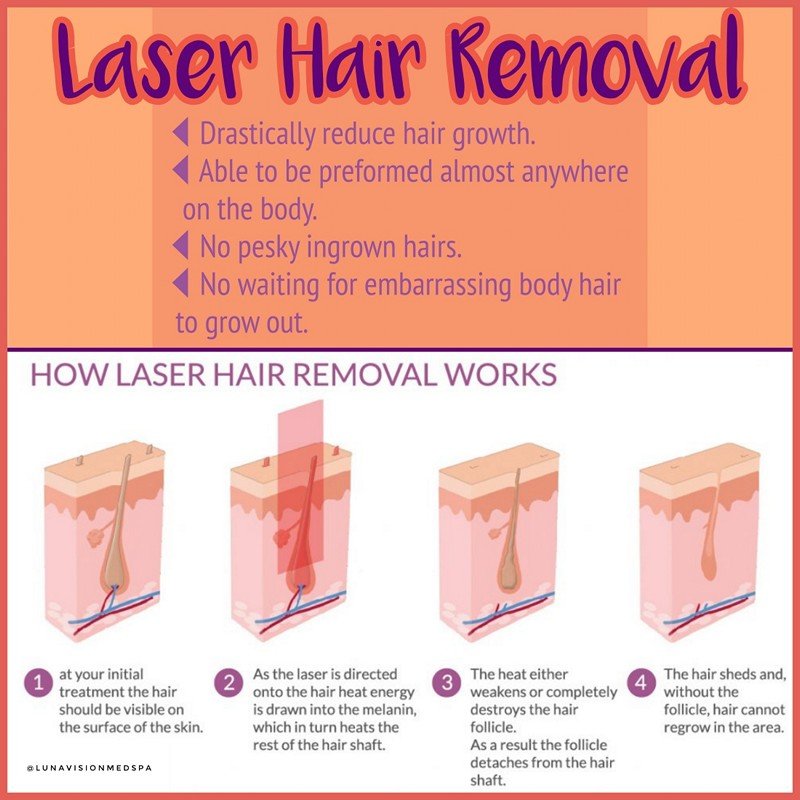 What Body Parts Can The Laser Be Used On?
Permanent laser hair reduction can remove hair from faces (except around eyes), backs, chests, arms, underarms, bikini lines and legs, as well as dark skin. 
You must shave prior to coming in for your laser hair removal consultation/appointment. Please do not pluck or wax, or tan one (1) week prior to your consultation/appointment. There will be a $20 charge if we need to shave you before the procedure.
What Does It Cost?
Costs vary from body part to body part. The following examples highlight our pricing for all laser hair removal visits in each area:
Lip Wax – $188
Underarm Wax / Bikini Wax – $249
Large Area Wax (Ex. lower legs, back) – $425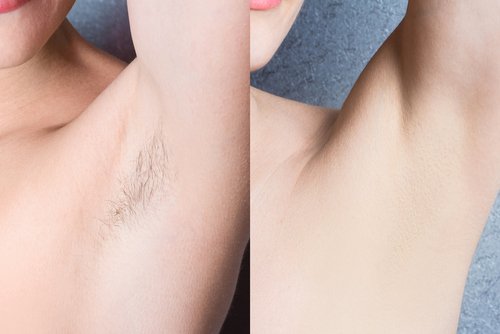 How Long (And How Many Visits) Does It Take To Undergo This Procedure?
Permanent hair reduction treatments take just minutes for small areas and about half an hour for larger areas. At least five treatment sessions are recommended for the best aesthetic outcome. You may need a maintenance treatment every 3-4 months and then 6 months – 1 year. Maintenance ranges from $50 -$120 per session. Laser hair removal technology can only affect hair in active phases of growth, so several treatments are needed to affect all your unwanted hair. 
What Will The Treatment Feel Like?
Most people feel only a slight, momentary "snap" at the treatment site during the procedure. 
How Quickly Will I Recover? 
You can resume regular daily activities immediately following treatment. 
Are There Any Side Effects? 
Typically, most people experience a mild, sunburn-like sensation, possibly accompanied by some minor swelling, immediately following the treatment. This usually lasts two to 24 hours. Ask your provider to discuss other possible side effects and the necessary post-treatment care with you.
Am I A Good Candidate For This Procedure? 
Permanent laser hair removal and/or reduction is available for all skin types, including very light and very dark skin, and most hair colors. Your provider will ultimately determine if you are a good candidate for the procedure based on a variety of factors, so a consultation is needed to firmly answer this question.