Laser Eye Lifts and Blepharoplasty at Luna Vision and Med Spa
Laser Eye Lifts and Blepharoplasty in Pittsburgh, Greensburg, and Tarentum, PA.
Do you have droopy eyelids? There's a solution to this problem. Whether you want to improve your appearance or are experiencing functional problems with your eyelids, eyelid surgery can rejuvenate the area surrounding your eyes. An in-office procedure can be performed on the upper lids, lower lids, and fat pads. Resurfacing is also done at the same time to smooth the skin. 
At Luna Vision and Med Spa, Dr. Dutt meets with all patients and uses a CO2 laser procedure to lift the eyelids, reduce fat pads, and resurface wrinkled skin. This is an in-office procedure with permanent results. Improve the appearance of both eyelids for $1,500. Your medical insurance may even pay for your procedure if it's determined that your eyelids are interfering with your daily life!
Schedule a consult to meet with Dr. R. M. Dutt at one of our three locations and learn how laser eye lifts help reduce your saggy skin and give you a younger, rejuvenated appearance!
*Consultations carry a $25 fee, which will go towards your first procedure if you move forward with this service.
---
Frequently Asked Questions on Laser Eye Lifts (a.k.a. Blepharoplasty Procedures):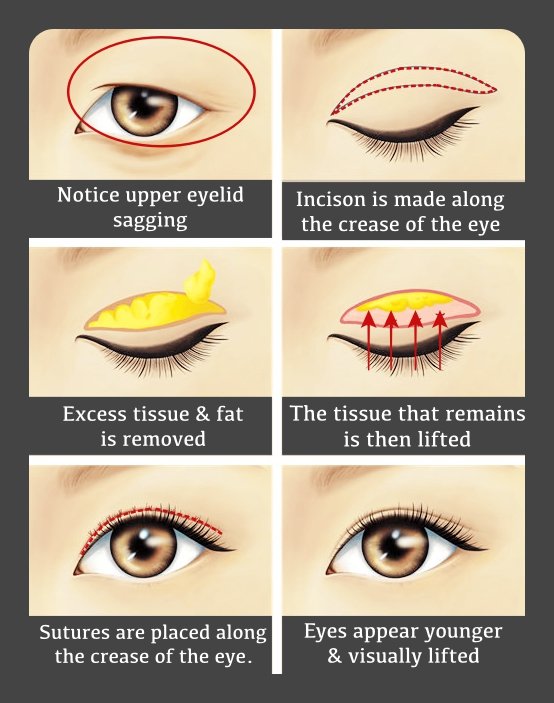 How Does The Procedure Work? Do You Remove Skin, Fat, And Folds? Or Is It A Microsurgery Process? 
This procedure is done with a CO2 laser to remove both upper and lower eyelid skin, as well as fat pads. This ensures minimal bleeding with minimal scarring, as well as a faster recovery time. 
Below are actual before and after photos of Dr. Dutt's patients.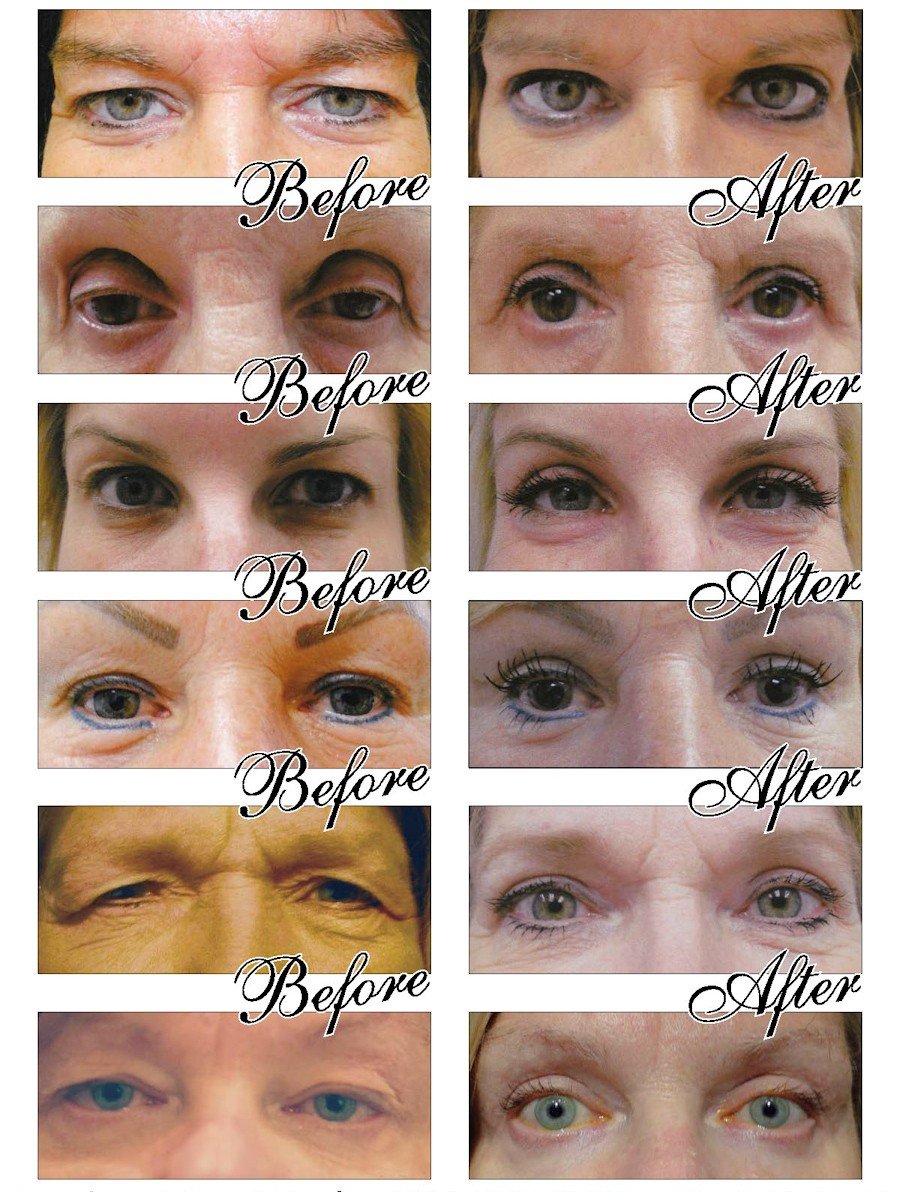 Lower Blepharoplasty with fat removal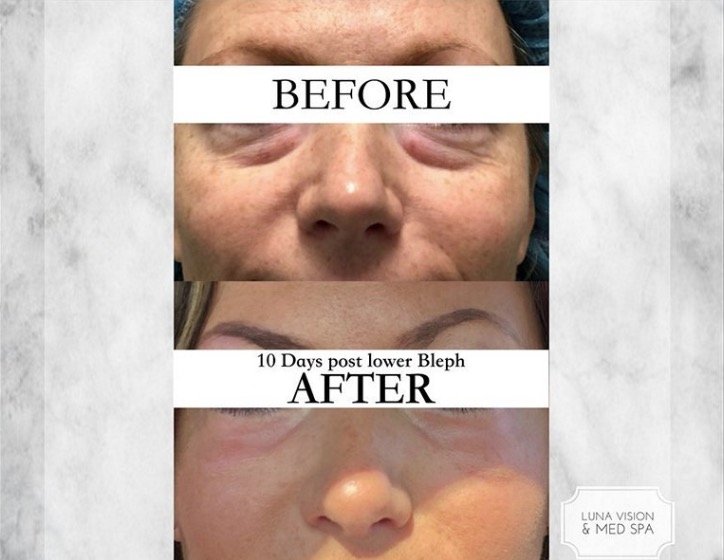 Does This Procedure Include Both Eyelids? 
Yes, it does! The price is for both eyes.
I Have Bags Under My Eyes. Would I Be A Likely Candidate For The Lower Eyelid Procedure? 
Yes! We would do a "no-stitch" procedure to address this common problem area. Check out the above before and after photo for lower blepharoplasty results. This is office procedure costs $1900 for both lower fat pads and resurfacing. 
Does The Procedure Result In A Lifting Of The Eyelid To Give A More Open Look? Does It Remove All Dropping? 
Yes! Both of these results are the goal of a laser eye lift. You may ultimately see better after the procedure because for the upper eyelifts Dr. Dutt is able to laser the Muller's muscle at the same time. You may need Botox in conjunction with tear trough fillers, however, to reach your ultimate appearance goals as well as CO2 laser resurfacing. 
What Happens To The Loose Skin After You Remove The Fat From The Lids? How Will It Bounce Back? 
Good question! During your procedure, the loose skin can be "resurfaced" with the required resurfacing tip on the CO2 laser. It's the same laser used to take off eyelid tissue. The laser resurfacing is included with your lower eyelid procedure; however it is an extra $850 when added to your upper eyelid procedure. The resurfacing lasts for 5-7 years. 
At What Age Can I Undergo This Procedure? 
When you're ready for it! Everyone is different and has different needs, so everyone undergoes laser eye lift surgery at different times. Ultimately, when you need relief and are ready to have a consultation with Dr. Dutt, it's a good time to look into the procedure. If your eyelids are severely dropped your insurance may pay for the procedure. 
I Have Hypothyroidism And Have What They Call A Pronounced Eye. Am I A Candidate? 
No. Laser eye lift surgery is not a solution to this particular issue.
Can You Have The Surgery If You Have Blepharitis?
Yes. In these cases specifically, however, Dr. Dutt would need to see you for a consult prior to determining your best next steps. She may possibly need to treat the problem with additional procedures as well. 
Is It OK To Drive After Having The Blepharoplasty Procedure? 
NO. After laser eye lift surgery, you will have taken a sedative and have blurry vision from the appointment. Transportation should be arranged for the day of your procedure.
What Is The Usual Down Time For Upper Eyelid Surgery, e.g., Working, Golfing, Sun Exposure? 
Downtime for this procedure is minimal. You can go back to work in two days. You might have to wear goggles, however, depending on the extent of your laser eye lift. The upper eyelid procedure takes half an hour and is done in-office with a laser. The laser makes the incision, and therefore there is minimal downtime. However, sutures remain for 2 weeks. These sutures do get hidden with the eyelid crease so you can go back to work. Upper eyelid lift for both eyes is $1500. Most people add lower eyelid resurfacing with an upper eyelift for $850. Severe drooping can be covered by insurance. 
I Have Bags Under My Eyes. Would I Be A Likely Candidate For The Lower Eyelid Procedure? 
Yes! We would do a "no-stitch" procedure to address this common problem area.
How Much Bruising And Swelling Do Patients Typically Experience And For How Long Following The Procedure?
Bruising is minimal to moderate following upper laser eye lift surgery, but the lower bruising can cause bruising for up to 5 days. If you get resurfaced, you will peel in this area for 5 days and in 2 weeks you will still be pink. Look at the third photo above. You may use coverup after 5 days. 
Are There Issues With Not Being Able To Close Your Eyes After The Procedure?
This is not usually an issue for the upper eyelid. However, for the lower eyelid in an elderly person, this could happen but can be repaired. 
Will Any Eyebrow Lifting Occur As A Result Of Having The Eyelid Surgery? 
A brow-lift is actually a separate procedure. However, it can be done at the time of laser eye lift surgery.
Can A Consult Be Done The Same Day As The Surgery If I Am Coming From Out Of State?  
No. In these cases, you must have the consult first with the doctor. A consult is $25 and comes off the fee of the procedure if you choose to have a procedure. 
Does Insurance Cover This Procedure? 
It depends. Medical Insurance can cover the surgery if the procedure is deemed non-cosmetic - but only the Upper Lids will be approved in these cases. If severe enough, we can bill your insurance for the first visit and a $25 consult would not be necessary. We must get your visual field taped and untaped and must get prior authorization for your insurance. However, if you get approved and choose not to have the procedure, you will be charged a $200 cancellation fee.