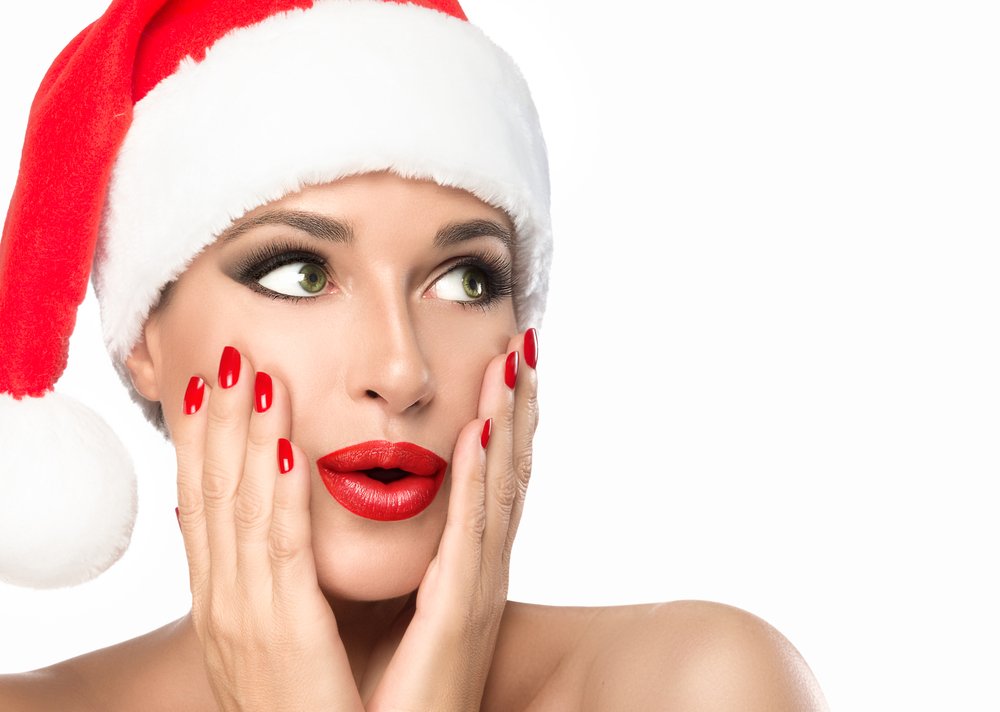 The holidays are meant to be a fun, special time of year. But between gift-wrapping, party-hosting, and hours of travel, many of us find ourselves more weary than joyful - and the exhaustion of the season is written all over our faces. Unfortunately, these signs of exhaustion that present themselves can be unsightly, and may make you feel self-conscious when it comes time for that big family get-together, office party, or New Year's bash. 
Dr. Dutt at Luna Vision and Med Spa wants to help you look and feel great, no matter how stressful your holidays are. If you're unhappy with tired-looking eyes, droopy skin, deep wrinkles and more, these four procedures can transform your face with a look that's merry and bright!
1. Botox for Tired Eyes
Crow's feet and droopy wrinkles under the eyes are among the hallmarks of a tired, aging face. If you're unhappy with the way your eyes look, Botox can help! By decreasing movement in the face, Botox helps to remove wrinkles, crow's feet and more. Botox can even help delay wrinkle formation, ensuring that your skin stays beautiful throughout the season! At Luna Vision and Med Spa, we use only brand-name Botox, so you can trust that your treatment is safe and effective. Don't miss out on our special holiday pricing: 20 units for $166 and 40 units for $335!
2. Photorejuvenation for Unwanted Wrinkles
Did you know that we lose three times more collagen in our skin from ages 40 to 50 than we do at any other age? If you're looking to restore a youthful look in time for some gorgeous selfies under the mistletoe, our photorejuvenation procedure is the solution for you. Photorejuvenation can erase wrinkles, pigmentation spots, blood vessels and other blemishes with no discomfort and minimal downtime. At Luna Vision and Med Spa, we have two types of photorejuvenation to choose from:
Photorejuvenation IPL Laser is a light-based, non-surgical treatment that helps clear dark spots and other unwanted blemishes. Laser treatment costs $200 per session, and we recommend two sessions for exceptional results.
Fraxel Laser is a more advanced type of laser care that uses focused beams to target deeper textures in your skin, such as deep pores, deep wrinkles, jowls, and melasma. Because it involves creating microscopic lesions in the skin, this procedure requires a 24-hour downtime and may require 1-5 sessions to meet your goals.
If your beauty goals involve both the removal of surface-level blemishes and deeper textures, we have a solution for you! Combined IPL and Fraxel treatments are available for just $299 per session. 
3. Microdermabrasion for Improved Glow
Maybe you're considering a cosmetic procedure for the first time this year, or there's a holiday party coming up where you'd love to stand out. Microdermabrasion is an amazing 30-minute treatment that gives your tired skin an instant glow with no downtime! Microdermabrasion can improve sun damage, wrinkles, fine lines, age spots, acne, and large pores. You can even add a 70% glycolic peel to further improve dark spots and acne, then add a neuropeptide mask to calm and nourish your skin. For just $99, you can turn heads the minute you leave our office!
4. Fillers for Voluminous Skin
Would you like to look years younger for your happy holiday? Injectable fillers are an incredible way to restore fullness to your facial structure and give your face a fresh, youthful appearance. These soft tissue and gel injections are made with substances that naturally add volume and fullness to whichever area you choose, smoothing the wrinkles that appear with stress and age. Here are a few of the filler products we offer at Luna Vision and Med Spa:
Radiasse: Great for treating hands, nose, and mouth lines, as well as adding definition to your jaw and reducing cellulite in your bottom.
Restylane: Perfect for addressing fine lip lines and rejuvenating droopy lower eyelids.
Bellafill: Adds definition, resurfaces your skin, and lasts up to 5 years! 
Juvederm Voluma: Excellent for plumping up cheeks and lips, and lasts for two whole years!
With the procedures offered at Luna Vision and Med Spa, you don't have to be Scrooged by stress and age. Treat yourself to a little beauty for the holidays - you'll feel the difference!
Do you know someone who loves to feel beautiful and deserves something just for them? These procedures make fantastic last-minute holiday gifts for the glamorous person in your life!
Call Luna Vision and Med Spa at 724-527-9720 or request an appointment online! We'll help you schedule your first appointment with Dr. Dutt and develop a plan to help you lift your spirits and turn back the clock on aging!